Ingredients
4-6 tortillas
1/2 pound ground beef or lamb
1 onion, finely chopped
1 tomato, finely chopped
2 cloves garlic, minced
2 tablespoons tomato paste
1 tablespoon red pepper flakes
1 teaspoon ground cumin
1 teaspoon salt
1/2 teaspoon black pepper
1/4 cup parsley, chopped
Lemon wedges, for serving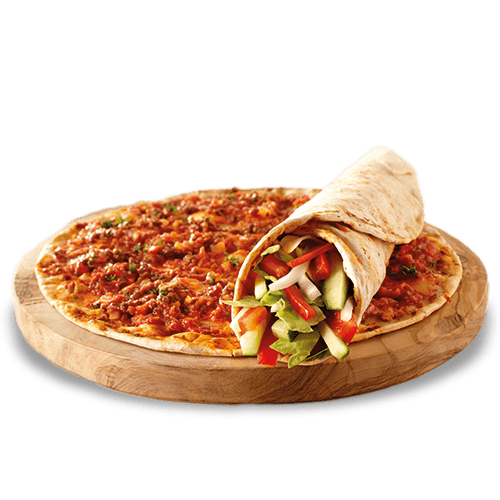 Instructions
Preheat the oven to 400°F (200°C).
In a large bowl, combine the ground meat, onion, tomato, garlic, tomato paste, red pepper flakes, cumin, salt, and black pepper. Mix well until everything is evenly combined.
Lay the tortillas on a baking sheet and spread the meat mixture over them in a thin layer, leaving a small border around the edges.
Bake the lahmacun in the oven for 10-12 minutes, or until the tortillas are crisp and the meat is cooked through.
Remove from the oven and top with chopped parsley and a squeeze of lemon juice. Serve immediately.
Lahmacun is a popular dish in Turkish cuisine, traditionally made using a special dough. However, in this recipe, we have used tortillas as a quick and easy alternative. This recipe is perfect for those who are short on time but still want to enjoy the delicious taste of Lahmacun.
Our recipe is also customizable to your taste. You can adjust the spice level to your liking by adding more or less red pepper flakes. You can also add other toppings such as bell peppers, olives, or feta cheese.
This Lahmacun recipe with tortillas is perfect for a quick snack or light meal. It is also great for parties or gatherings as it can be easily prepared in advance and served as a finger food. You can also make it as a fun activity with your friends and family by setting up a Lahmacun making station with different toppings and sauces.
In conclusion, this Lahmacun recipe with tortillas is
As you can see, this recipe is incredibly simple and easy to make. The tortillas provide a crispy base for the spiced meat mixture, and the fresh herbs and lemon juice add a burst of flavor that complements the dish perfectly.
If you're looking to add more vegetables to this recipe, you can also add some sliced bell peppers or diced eggplant to the meat mixture. This will add some extra texture and flavor to the dish, as well as some extra nutrients.
One of the great things about lahmacun is that it can be customized to suit your taste preferences. If you prefer a milder flavor, you can reduce the amount of red pepper flakes or omit them altogether. If you like your food really spicy, you can add some extra chili powder or hot sauce to the meat mixture.
Lahmacun can be enjoyed on its own as a snack, or as a light meal served with a side salad. It is also a great dish to serve at parties or gatherings
Diabetes Dietitian in Noida
Diabetes Dietitian in Delhi
Healthy Recipes List